Additional equipment
Industrial sectional doors
---
  Pedestrian gate
The pedestrian door is equipped with a locking lock and a gas automatic self-closing machine.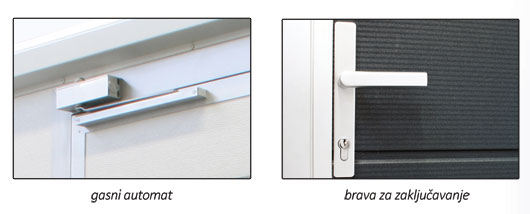 In addition to the standard method of installing pedestrian doors, where there is a threshold of 120 mm, Rolomatik delivers pedestrian doors made with a low threshold. The low threshold can be made of aluminum or stainless steel, depending on the user's needs.
We offer a set for making pedestrian doors, which contains all the necessary parts and instructions for making and installing.
For those who want to make a pedestrian door of non-standard dimensions, the right solution are aluminum profiles 6 m long that can be cut to the desired length. Also, a hinge assembly, 2.5 m long, is in our standard offer.
Previously, accessories for Rolomatik sectional doors were presented, and below you can see the accessories and accessories that can be installed and upgrade the entire system.