Drive and electronics
Industrial sectional doors
---
  Marantec STA-1
Marantec STA-1 is an ideal solution for operating industrial sectional doors, both panel and aluminum. The production of the transmission mechanism from quality materials with constant lubrication ensures a long life of the gear motor, without failures. It is used for all door dimensions up to 30 m2.
It is equipped with a control box (control key plate CS300) and a device for automatic stopping of the door in the upper and lower position. The control panel enables the connection of optional elements of the segmental door assembly, namely: photocells – infrared sensors, safety contact tires, electronics for remote control with modules for programming remote controls. The output of the control box is a PGP cable 5 x 1.5 with a three-phase UKO – UTO socket 16 A, so when planning it is necessary to bring the power cable PGP 5 x 1.5 to the place of installation of the control box on the motor side at a height of 1 , 5 m from the floor. For the installation of one such engine, it is necessary to provide a minimum space on the side of the opening for mounting the engine of 300 mm. In the event of a power failure, the door can be opened via springs and a chain from the floor.
Technical characteristics
engine: 380 V AC 50 Hz, 2,1 A
engine power: 0,37 kW
maximum torque: 100 Nm
operating temperature: od -20 do +60 °C
protection class: IP 54
direct transmission
  Control unit CS 310
The CS 310 control unit allows easy system operation and is standard.
External control unit functions and benefits:
Programming using the 3-way navigation key on the clear text LC display
Convenient programming of digital limit switches on the control unit itself
Various connection blocks for connecting control devices and safety devices
Integrated error log
4 programmable relay outputs and two programmable inputs
Integrated MS-BUS interface for connecting expansion modules
Integrated protection for the second shutdown option is built-in as standard
Powerful power supply for other devices (24 volts DC / 500 mA)
FU motor versions are automatically recognized by control and special functions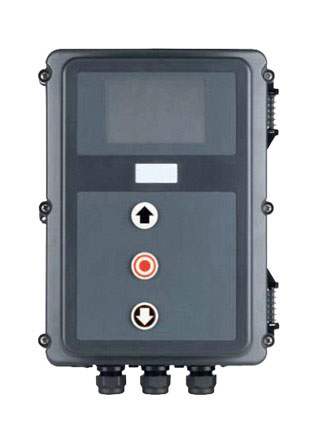 unique programming structure
fast programming in just 3 steps
Plug & amp; Play feature
fixed position of all menus and functions
precise display, logical and practical
easy connection via coded system socket
automatic recognition of connected modules
constant control of all BUS devices
easy programming of functions on the device itself
centralized notifications of failure of any module
  Manual gearbox
The manual reducer is a flexible and economical alternative to the operation of industrial sectional doors using a motor reducer.
Material: galvanized steel
Dimensions: height 199mm, length 165mm, width: 74mm
Door weight: up to 350 kg
Shaft diameter: 25,4 mm
Transmission relationship 1:3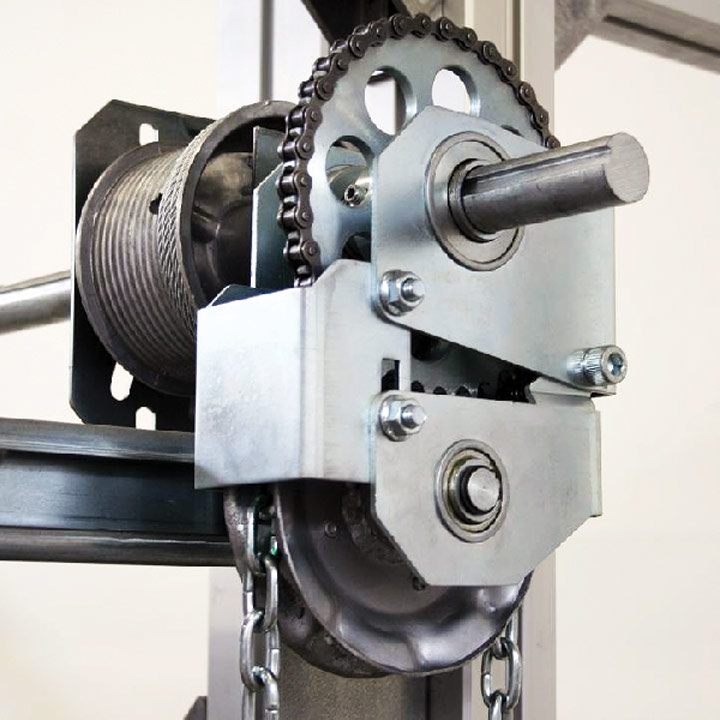 Photo cells
In addition to the standard protection system, they provide additional security.
Signal lamp
Ideal for attracting attention. When the door moves, the signal lamp lights up using energy-efficient LED technology.
Remote control module
Allows you to easily extend the control unit to wireless control
Remote controls
They are available with one or four buttons for different functions, door and light control
Internal key
Control and control the system from the inside with three buttons with the OPEN / STOP / CLOSED functions. The buttons are marked with clear symbols.
Lock
Waterproof outdoor unit for key management and control.
Wireless PIN keypad
External system management and control unit using a four-digit PIN code. Waterproof, with illuminated buttons and protected from vandalism.
Card reader
Easy-to-use device controls via card reader or key fob, for a maximum of 2000 users.